S.E. Asia Photos
1990 - 1999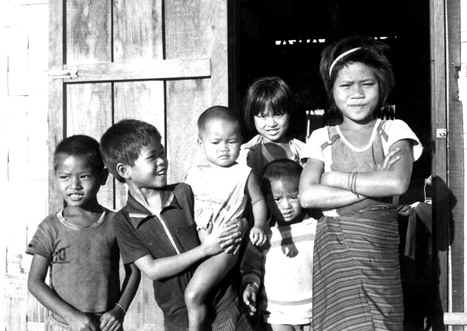 Tchepone, Laos - I became close friends with these children. Our Team ate at a dirt floor restaurant a lot in Tchepone. which is about 20 km from the old Khe Sanh combat base. The kids would flock to see us and play. You can see who the "boss" is in the photo above. The "boss" and boy holding his sister are all related. The other three are also brothers and sisters. I was known as "Luang (Uncle) Mike"...the carrier of balloons and candy. My memories are profoundly fond of the tribal children who had very little.
Chau Doc, Viet Nam - I hiked up to this monastery and enjoyed a pantomime conversation with this Buddhist Monk. He had fought in the war and then later decided to become priest.
Don Suwan, Laos - While visiting a village near the Viet Nam border I noticed this little tribal boy who had just spotted his first foreigners.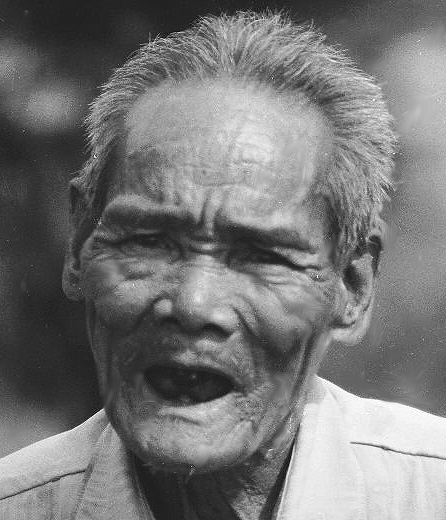 Da Nang, Viet Nam - Try to imagine what kind of history lies behind this mans worn face. He no doubt witnessed the Japanese, French and Americans as they arrived and departed from his land. Probably a simple farmer trying to make ends meet.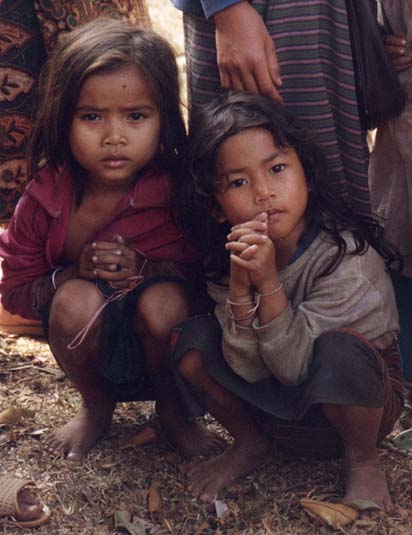 Ban Soap Nam, Laos - Our Team was doing a medical evaluation in this small village. Everyone was gathered in a big circle. I spotted these two little ones watching me.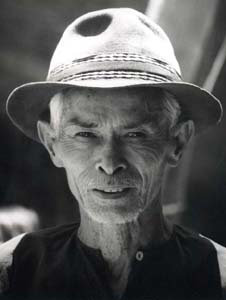 Rach Gia, Viet Nam - I was acquainted with this gentleman first in November 1968 during the war. When I returned to Vi Thanh village in 1994 he was still there. We simply smiled at one another because we knew that we knew.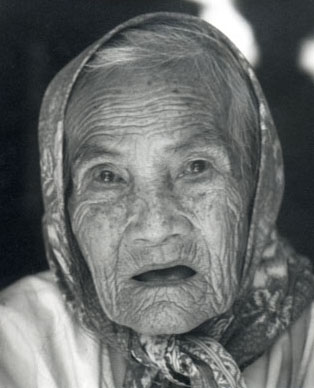 Rach Gia, Viet Nam - I met this wonderful lady again in 1994 at Vi Thanh village. We'd known each other in 1968. She was 80 years old when I took this photo so she would have been 56 when I first met her. She remembered me giving her an ornamental Dutch candy can back during the war. When the communists took over she put her valuables in it and buried it behind her thatch hut. Sadly....she never located the burial place again. In 1999 I was saddened to find out that she had passed away.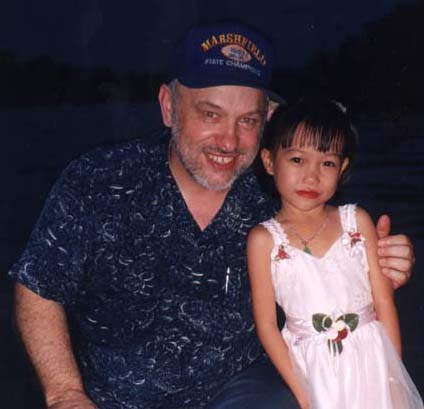 Rach Gia, Viet Nam - I had just visited Vi Thanh village in 1999 and was heading back across the river to Rach Gia. As I boarded a tiny ferry I couldn't help but notice this little girl who was going to market with her mother. I asked for a photo and they obliged.